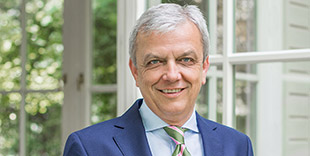 Tim Greve has extensive leadership experience in Germany and abroad including large as well as medium-sized enterprises. The focus of his professional career has been on the analysis of complex operations and the targeted implementation of performance and growth-driven changes. After his career start as CEO-assistant at the Axel Springer AG and subsequent positions in international sales and marketing organizations such as News Datacom and DELL computer (London), he was appointed Managing Director of the Axel Springer Direct Marketing GmbH, Practiseleader of Customer Management at Axel Springer AG, deputy head of AS print logistics and Managing Director of WBV "direct delivery" in Hamburg and Berlin.
During these years he was responsible for a number of projects transforming Axel Springers subscriber and consumer business from a silo based, non integrated operation to a fully integrated cross media business. Some of his projects were: Implementing SAP MAM and MSD; integrating newspaper and magazin process with more than 3 Million customers into one MSD System; initiating online customer services and the one click buying project. At each step of this development he sucessfully integrated the new systems into the customer service Organisation.
Tim Greve has founded FORWARD CONSULTING in 2011 Since then he has successfully supported customers in the media and the IT industry.